Let Us Make a Record of Bring More Culture Phenomenon in HPA 2017
| | |
| --- | --- |
| Published date: 2016-09-12 | |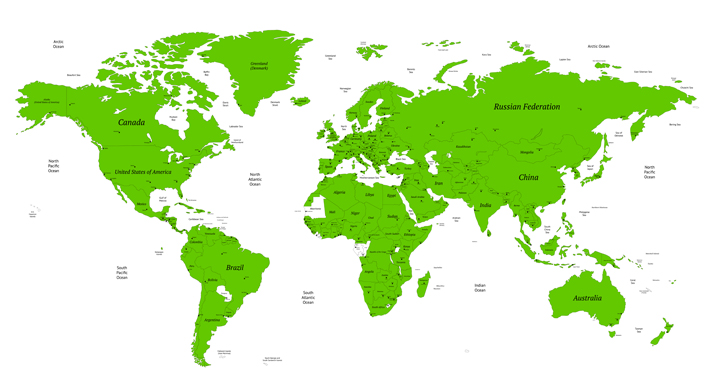 Throughout the years, cultural phenomenon of 178 countries and regions were caught in HPA's camera, as the green highlights on the map are shown above.
It seems the green highlights have covered most countries & regions on the map, but there are still cultural phenomenon of 43 countries & regions that have not been caught in HPA's camera yet. The table below shows the 43 countries & regions in detail, and have a look how many of them you have never heard about:
| | |
| --- | --- |
| Arab States | Djibouti and Mauritania |
| Africa | Equatorial Guinea, Congo, Gabon, Lesotho, Liberia, Sao Tome and Principe, Saint Helena and Indian Ocean Territory |
| Latin America and the Caribbean | Aruba, Anguilla, Paraguay, Belize, Dominica, French Guyana, Grenada, Cayman Islands, El Salvador, Saint Kitts and Nevis, Saint Lucia, and Saint Vincent and the Grenadines |
| Europe and North America | Andorra, Bermuda, Faroe Islands, Liechtenstein, Monaco and Gibraltar |
| Asia and the Pacific | French Polynesia, French Southern Territories, Guam, Kiribati, Cook Islands, American Samoa, Micronesia, Nauru, Niue, Palau, Pitcairn Islands Group, Tonga, Tokelau, Western Samoa and New Caledonia |
From the table, these 43 countries & regions are divided into 5 major world regions, according to the standard of how UNESCO reviewing the list of intangible cultural heritage for highlighting culture identity. Such as, Mauritania belongs to the region of Arab States.
You might not be familiar with most of 43 countries & regions from the table, because their geographical areas are too small to get marked on the map. Your contribution in HPA 2017 still can make a record and bring cultural phenomenon from them by giving the table a thoughtful look.